There are many people who are wondering when the right time to start exercising is. Most of them start training in spring or autumn because the temperatures are pleasant and they seem to have more time. However, the majority of people don't have time to be physically active regardless of the season. If you believe that you are one of them or you always find excuses to avoid signing up at your local gym, we've got news for you – there is one activity that you will find attractive and you will have plenty of time to practice. According to many experts, Muay Thai training in a camp in Thailand is the ultimate solution for people who don't have enough time or willpower to exercise.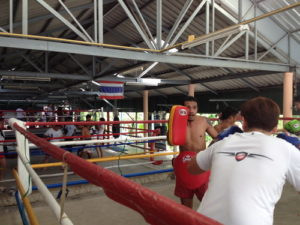 As you are probably well-aware, Thailand is a famous travel destination. We don't need to go into details about the tourist offer of Thailand because the figures tell a lot about this country. Last year, more than 25 million people visited Thailand and most of them were tourists looking to enjoy the beaches, restaurants and clubs there.
Thailand is the ideal destination for a summer holiday, but the aforementioned things are not the only reason why we provide this advice. Namely, Thailand is a country that hosts many Muay Thai training camps. This combat sport is getting quite popular among fitness fans because it can improve health fast in almost any individual.
Any person can join a camp like this and after two week of relatively intense training they will feel much better. Muay Thai includes interesting and fun exercises that activate all body parts. They are specially designed to strengthen the body and optimize the work of all bodily organs which makes Muay Thai training perfect for modern men and women affected by sedentary lifestyle.
With the help of Muay Thai you will improve flexibility, mobility, agility and strength. In addition, you'll improve stamina and endurance. Several studies have shown that Muay Thai can help people with their mental health too because it eliminates stress, anxiety and depression and boosts self-confidence.