Suwit muay thai
Many people suggest that the trainer is the most important part of a Muay Thai camp. For example, those who are interested in professional Muay Thai fighting should look for a camp that has trainers that were once part of pro fights/competitions. Even if you are joining a Muay Thai camp in order to learn some self defense techniques or to get in shape it is always a better idea to be under supervision of a real professional. If you doubt that your trainer is a former or current professional athlete you can always use the internet to find some online reviews or records.
Suwit Muay Thai Training Camp in Phuket ,Thailand
Muay Thai (Thai Boxing) is a way of defense that is unarmed, and focuses soley on the "Art of Eight Limbs", and using the "Eight Points of Contact" as your focal point. These are skilled techniques which have been tried and practiced for centuries.
Beginning in the mid 1500's, martial arts was used during actual warfare. Back in those times it was referred to as Toi muay, muay, or Pahuyuth. Overtime Muay Thai became the name, when it gradually made the change to being a sport. In the mid 1800's, the Master's of the Art built training camps to be able to teach the importance of exercise, recreation, self-defense, personal growth, discipline and respect.
Throughout the 1900's, Muay Thai had been able to refine rules and regulations for the ever growing art form with the use of protective wear, such as gloves, jocks, etc. This protection is necessary for fighters, as their strikes are swift and vigorous. If this is ignored in mixed martial arts, it increases the risk of severe injury.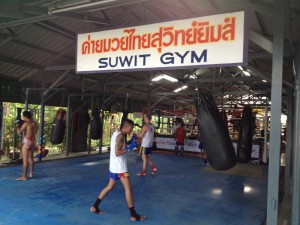 All of the culture, structure and techniques needed to make this into a true performing art is found right here at the SuWit Muay Thai Training Camp in Phuket City (Thai Province), Thailand. We provide you with food and shelter during your lessons, making it more feasible for to stay committed to your goals. When you need to take a break and want different scenery, don't forget that Phunkt City is a large tourist attraction with much to see and explore. SuWit Muay Thai in Phuket Island is for your training and holiday.
SuWit Muay Thai Training Camp : The past 25 years we've been teaching our male and female Muay Thai students the proficient skills of Thai Boxing. It has proven to be an honourable form of mixed martial arts, and used to always be the nation sport of our native land. We have had students of all ages and sizes who have traveled from all over the world, and we encourage all to come forward. Learning these skills can help you achieve your goals by staying on the right track and maintaining the commitment you made to yourself.
Whether you have had previous training, or are skilled in martial arts, or perhaps you are an amateur; it doesn't matter! We like to take all kinds of expertise and practice together as a team.We will teach and give you the guidance you need to surpass the bar! The competitions will get your body in great shape, as these practices require you to use; not only your fists and feet, but your core strength, maneuver your elbows, teach you about locking, and the various hitting strategies. Plus, if you feel the need to have a more one on one lesson, all you have to do is pay an small fee to give you a better experience!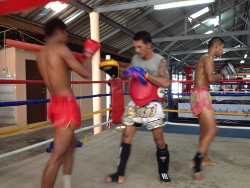 In order to fully understand the purity of the Muay Thai martial art, you must take your training right here, at the Thailand Muay Thai Training Camp. We give you the option to stay right here with us throughout your training. Your accommodations will include a clean private room and bath. In addition to that you will have free WiFi, access to our recreational room and our outdoor pool! Once you have been enrolled in our program for two weeks, we give you a free ticket (worth 1,200 Baht) to see one of our Muay Thai fights every Friday night! Our facilities are spotless and fully equipped to meet your needs!
We offer a one month package for only 11,000 Baht (353 USD, or 253 Euro) for those who wish to stay and training muay thai with us. If you're not interested in accommodations, and you are just looking for instruction in the Thai Boxing martial art, we offer a monthly payment of 9,000 Baht.
For your convienence, Suwit Muay Thai Training Camp in Thailand and Phuket accept Visa, Mastercard, and Paypal!
– Suwit Muay Thai with favorite advisor  : This is a martial art coming from the country of Thailand. Training Muay Thai will mean that you will be able to experience many different kinds of benefits and get better as a person on the whole.
– Suwit Muay Thai for intensity exercising : The first thing that you will do as a Muay Thai practitioner is face your fears of violence. The fear of violence is one of the most potent forms of fears that a person can have.
– Suwit Muay Thai for energy and endurance :This means that as you work out and improve your skill in Muay Thai, your health will also get improved in the process.
– Suwit Muay Thai Training Camp with cool partnership
– Suwit Muay Thai camp for successful people 
– Suwit Muay Thai special cost
– Suwitmuaythai with superlative suggestion 
– Suwitmuaythai with ordinary action
– Suwitmuaythai with social media
– Suwitmuaythai for healing vitality
– Suwitmuaythai with much value
– Suwitmuaythai for small project
– Suwit Muay Thai with unexposed procedure
– Suwit Muay Thai with undertaking administration
– Suwit Muay Thai for expanding joyful 
– Suwit Muay Thai of newbie entrepreneur 
Taking A Look At SuWit Muay Thai Camp At A Glance
We have more than 25 years of training experience
We own and promote our stadium for Muay Thai
The Muay Thai facilities are astounding
You can relax during your stay at the Muay Thai Boxing Camp, while exploring the serene and vibrant atmosphere of Phuket Island, Thailand
Free WiFi when you stay with us to get your training
We are Muay Thai Professionals, allowing us to teach you all the Muay Thai techniques
At the Muay Thai Camp, the courses and classes have two different levels; Amateurs, and MMA Fighters.
The classes at Suwit Muay Thai gym are small, ranging from 1-5 students at one time.
If you wish to have one on one training it will only cost you a small fee extra!
The Thai Boxing camp is fully furnished with complete equipment for weightlifting
We accept individuals from all areas of the world; from any gym, camp or school
Students who have had previous training, or if they're amateur everyone is welcome! We work with a variety of different levels with in Muay Thai martial arts
We work with individual who wish to lose weight, or want to be more fit.
We accept payments made by Paypal, Visa, and Mastercard for your convenience
Muay Thai article by suwitmuaythai :
Suwit Muay Thai and fitness for weight loss program : If you train at Suwit Muay Thai, you will the special price for training & room in 2021 . Everyone are happy to train at Suwit gym because we are 25 years guarantee of real Muay Thai course. Muay Thai is the business with marketing technology.
Muay Thai camp in Thailand: Suwit Muay Thai camp invest in facility for customer.  While participating in the noble sport of Muay Thai is reserved for the best, most dedicated of athletes, everyone can benefit from the remarkable fitness program developed from the training techniques. No matter you age or physical condition, you can improve muscle tone, lose excess fat, and enjoy greater mobility with the exercise techniques from Muay Thai. Suwit Muay Thai gym is a good experience. 
---
Muay thai training in Thailand Information @ Suwit gym @ www.suwitmuaythai.com