Prices
Worth for learning Muaythai for course we are going to prepare trainers who have high expertise and talent concerning boxing and have special technique for the beginner till you become an expert boxer. We have a tendency to are welcome everybody, beginners, professional fighters, ladies and kids. We have twenty year expertise of coaching camp to ensure.
One time 500 Thai Baht           (15 USD, 14 EUR)
One Week (6 Days, a pair of times a day) 3,000 Thai Baht         (90 USD, 80EUR)
1 Month 9,000 Thai Baht  (268 USD, 239 EUR)
(33.6 Thai Baht  = 1 US Dollar, 37.7 Thai Baht = 1 Euro  : 2015-05 )
If you'd prefer to learn to be associate degree professional we have a tendency to provide the most effective advice to require courses for one month
If you'd prefer to learn with personal course or one by one with my trainers ,the private training is 17,000 Baht a month ( 2 sessions a day ) or 5,500 Baht a week ( 2 sessions a day , close on Sunday ) .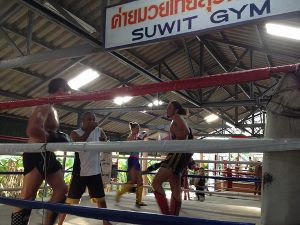 Muay Thai Training  program
Suwit Muay Thai camp open all year, coaching a pair of times on a daily basis (Morning and Afternoon)
The educational program is base on your muaythai level. Regular program ( a pair of Hrs ) is embrace : heat Up/Stretch , Run ( one – ten metric linear unit. ) , Skipping           (15 Minutes) , Shadow Box (3 rounds) , Bag Work (3 rounds) , Pad Work (3 – 5 rounds) , Clinching/Sparring ( three rounds) , Fitness , Shadow Box (2 rounds) , quiet down Stretch .
Special Package of Muay Thai Training , the package of coaching as well as a non-public area for one month
Training + a single Fan Room at gym for 1 month         =11,000 Thai Baht (327 USD, 292 EUR)
Training + a single Air conditioned room at pool for 1 month   =14,500 Thai Baht (432 USD, 385 EUR)
All non-public areas have own rest room (within room)
If you train and keep in my rooms a lot of two weeks, each Friday night you'll get a free price tag (1,200 Baht ) to look at real muay Thai fighting. Because we tend to are owner of Muay Thai Stadium in Phuket too.
Then you train with us you'll do not have to be compelled to purchase the tickets to look at muay Thai fighting each Friday Night.
Thai Food service with 2 meal a day for 1 month  =  3,100 Baht  Baht (  92 USD , 82  Euro )
(33.6 Thai Baht  = 1 US Dollar, 37.7 Thai Baht = 1 Euro  : 2015-05 )
For air conditioned room , you pay electricity value by activity with 5 Baht/Unit (regarding 300 -1,500 Thai Baht a month)
Payment
We currently settle for Visa and Master Card
All payment needs money defrayal or MasterCard (visa/master card only).
We settle for visa/master card and third bank charge.
Sorry, we've a NO refund Policy once payment.
If you're interested to fight in muay Thai bowl to induce a lot of expertise regarding Muay-Thai rival in Thailand. We are able to organize it for you regarding real boxing competition by we'll take care of your health body and ability to understand if you're able to do and also the rival is within the same level of ability and appropriate for every alternative to fight.