Muay Thai is a great sport for both men and women that live in Thailand, but if you are a beginner you might get a little overwhelmed by the massive amount of information you have to process. In addition to that, you tend to learn a lot of new techniques in the training camp, and this is why you need to work hard in order to determine the best training methods. In this article we are going to focus on some of the best Muay Thai tips for beginners!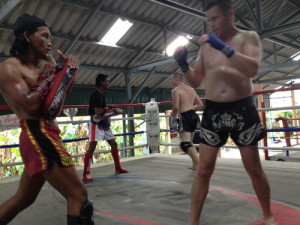 You don't need to be in shape to train
Thankfully, Muay Thai is a skill based sport so you do not have to be in the perfect shape, instead you just need to perfect your skill. You need to talk with the trainer in order to determine the best lifestyle that you need to acquire in order to get the best results, but one thing is certain, you don't have to be a fitness expert to perform this sport.
Watch fights
A good way to learn is to watch others do it. You have to be fascinated by this sport in order to fully understand it and become better at what you do.
Perform shadow boxing
Even if you might think that shadow boxing is a bad thing, it really isn't. It allows you to perfect your technique, to become better at what you do and it just manages to do a better job at preparing yourself for the fights.
Don't try to accumulate too much information at once
It's a good idea to stick to basics, because having too much to do will just hamper the experience. Remain with the basic stuff until you are comfortable with the ideas and practices, only then you can move ahead.
Ask questions
A good trainer will always answer all your questions, so if there is any Muay Thai technique that you do not understand, just ask him. This is a much better way to perform the sport, not to mention that you will know exactly what has to be done if you want to do Muay Thai during a travel.
Get quality gear
Just like in the case of any sport, this one also requires good equipment. Try to invest in high quality gear as this will help a lot. Avoid the cheaper one because it will just hamper your training.
Be a good partner
Muay Thai isn't only about learning, it's also about being a good partner. It's a team effort most of the time so try and learn how to hold pads while also interacting with others. This is the best way to make the most out of the sport, and the results will astonish you for sure.
As you can see, Muay Thai is a wonderful sport and even if you are a beginner, there are still many things you can do. Commit to your training, and you will soon see some impressive, positive effects on your health!