The secret of good health lies in many good things that are practiced together as a plan. Leaving one of them may impact the result of the other practise. For example, you do exercise every day for an hour, but when it comes to control on your bad habits like smoking, excess drinking, junk food love, etc. then you are failing on that. So, you have to make a balance between your life style and the secret of good health that I am going to tell you here.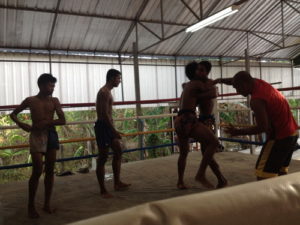 The secret of good health is Muay Thai. Yes, it is the best way to ensure good health with least exercise every day, but remember that you have to control many other things to see its real impact on your health. What you will have to do is practice it every day for about 30 minutes. You will have to control on your diet. No, I am not asking you to go on diet, Muay Thai never wants you to skip foods, lunch, or dinner. In fact, eat more because when you will practice this art, you will need energy.
Travel to Thailand with Muay Thai on your mind to learn this art of gaining awesome health without compromising on your day-to-day eating plan. But, yes, it is true that you will have to control on junk food, excessive intake of coffee, tea, wine, and other such drinks that are tasty but in fact, not good for your health. To replace these foods, you can discuss with your Muay Thai trainer, and believe me he will guide you to the best plan that you will love. He will suggest you the foods that are tasty and healthy both.
Thailand is the best place to learn Muay Thai when you have a dream of gaining better health and slim body. If you are fat and your daily exercises and diet plan is not showing any result, give a try to Muay Thai. Travel to Thailand to get expert training on this art, and you will surely see commendable results in just a few months. If you have extra fat on tummy, things, butts, then you will have to buy new dresses in a few months.