When people are talking about making changes in their lives in order to improve their health, they are thinking about long journeys that include many restrictions, suffering and hard working. While it is true that a certain level of discipline and developing a certain routine is a must for every person who wants to get in shape and enhance its physical and mental health, it is also true that this quest doesn't have to be boring, scary and difficult. As a matter of fact, you can improve your health simply by going on a vacation! That's right, many people can confirm that their decision to travel to Thailand has brought significant health improvement. But, why Thailand?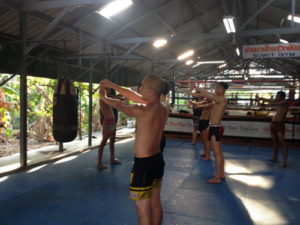 Well, Thailand is a respected holiday destination suitable for literally any individual. So, people of all ages, genders and social statuses can go there and have fun. But, how can a trip to Thailand help your health? Besides the typical health boost that people get whenever they go on vacation, going to Thailand gives you a unique opportunity to get involved in a well-known martial art activities. Namely, Muay Thai is the national sport of Thailand.
Every person can take Muay Thai classes in a training camp in Thailand and do something good for their health. The professionals who work there know that foreign travelers want to use Muay Thai training for fitness purposes, so they have developed special programs that provide results fast.
Muay Thai training for fitness purposes can deliver a myriad of benefits to your health. In addition to the strengthening of your muscles, you can also improve the health of your bones and tissues and witness great improvement of your flexibility, agility, mobility, speed, movement, stamina, endurance etc. The list of health benefits is very long and includes some mental aspects too. Muay Thai training can clear the stress and anxiety you feel and make you feel more satisfied and happy which will ultimately boost your confidence.
Taking Muay Thai training classes in Thailand is inexpensive, very effective and fun, so give this sport a try when you are on vacation.