If you have decided to travel abroad on a family holiday, it is the best idea to head to Thailand. This advice may sound odd to some people, but those who have visited Thailand know how beautiful this place is. If you find accommodation on some of the many islands there, it is very likely that you will have access to some beautiful sandy beach. Thailand is known worldwide for the amazing clean and sandy beaches. But, in this article we won't talk about the beaches or the beautiful nature in Thailand or the many interesting activities that you and your family can get involved in, we will talk about Muay Thai training.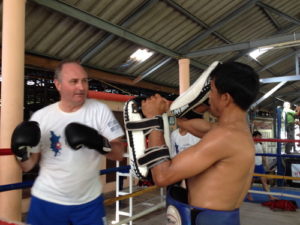 Muay Thai is a martial art and combat sport, but it is also a fitness activity. Many people believe that Muay Thai is not suitable for the entire family, but they are wrong. It turns out that age and gender doesn't play any role when it comes to Muay Thai training. Almost every Muay Thai training camp accepts students of all ages and families. As a matter of fact families who decide to learn Muay Thai together tend to help each other during and after the training even though the classes are guided by a professional trainer.
If you decide to take Muay Thai classes as a family you will be able to overcome some old conflicts that exist in your family because conflicts are solved positively in Muay Thai training. In addition, you can expect improved health for all family members. Some of them will support their loss weight efforts, while others will stabilize their weight. In addition, every participant will become stronger and more flexible. Muay Thai training is more than simple sport training. This activity helps people build respect for every individual and this is something that many people, especially young people, miss today. needless to say, Muay Thai training helps students improve self confidence and eaches self defense. Children will benefit from this training because they will improve their focus and concentration which is quite helpful at school.
There is no doubt that Muay Thai training for the whole family is an experience that you will never forget.