If you are interested in getting in shape, why not consider Muay Thai? Unless you are not following any news, you should know that Muay Thai or Thai boxing has become very popular fitness activity in the past few years. Of course, the fact that you can travel to Thailand for your holiday and get Muay Thai training classes in a camp there have contributed to its popularity. Yet, there are many people who are still wondering how Muay Thai can help them get in shape and what are the things that make this activity so beneficial for their health.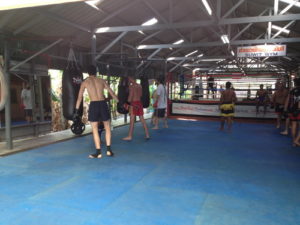 To start with, Muay Thai is a mentally engaging activity which means that you can't get bored easily. This is definitely one of the most notable obstacles for people trying to get in shape. Lifting weights, using a treadmill or other well-known exercises are a little bit boring. On the other hand, if you choose Muay Thai, you will get classes where you can practice different kinds of exercises in an environment that will make you enthusiastic.
Furthermore, Muay Thai training is an excellent fitness activity because it helps people socialize. You will take classes in a small group with other people and you will make friends with them. When you go to the local gym you probably need a friend to go there, but this is not the case with a Muay Thai training camp in Thailand. They will support you and be glad to hangout during and after classes. Of course, these training camps have professional trainers so you won't have to ask anyone to hold the pads or assist you with some exercises. This is the job of your trainer.
Next, Muay Thai training is an excellent way to get in shape because the exercises are very diverse. You won't need to perform only one type of exercise. On the contrary, you'll have to engage every body part, joint and muscle. In this way you'll improve your overall health.
In the end, don't forget that Muay Thai eliminates anxiety and stress which is also good for your health and shape.