Are you planning your next holiday? Have you found your perfect holiday destination? If the answer is affirmative, we urge you to reconsider your decision because we have a suggestion that will bring you tons of benefits and help you have the best holiday ever.
We will get straight to the point – our recommendation is to join a Muay Thai training camp in Thailand. Before we focus on this activity, let's say a few words for Thailand. This is a well-known destination for tourists from all over the world. The incredible sandy beaches, beautiful bays, exotic islands and the chance to visit some incredible historic places and busy restaurants and clubs are some of the things that lure foreign tourists. However, the ability of Thailand to satisfy the requirements of the pickiest modern tourists is the reason why this country is always on top when it comes to tourism. Namely, people there know that modern tourists want to do something good for their health and that's why they are including Muay Thai training in the popular travel packages.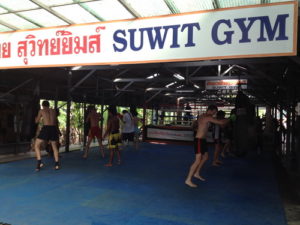 Finding a Muay Thai camp is not very difficult. You can use the Internet for this purpose and book classes even before you go there. Just visit the website of the camp that you are interested in and contact the management.
When it comes to the training process itself, you should be prepared for intense and demanding training classes. However, you should know that this type of training can never make you bored or unsatisfied. Every exercise is fun and carefully selected so it can provide benefits for your overall health. Thanks to Muay Thai training students will increase their muscle mass a little bit and tone every muscle group. They will also enhance the core and improve their balance, coordination, flexibility and stamina. Besides the great benefits for their physical health, students will witness some great changes in their minds. Namely, they will be spared from the stress they've accumulated before and they will release their aggression and frustration. In the end, they will come back home relaxed and much healthier.