If you are reading this article then you are probably looking for a way to improve your health in a fast and fun way. In case you think that we are suggesting some sort of pills or supplements, then you are wrong. Our suggestions might look more difficult, but it is much easier, more effective and more entertaining than anything else. Namely, if you want to have good health and to stay in shape, we suggest Muay Thai training in Thailand. If you think that this doesn't make any sense, keep reading and you will soon realize how good this advice is.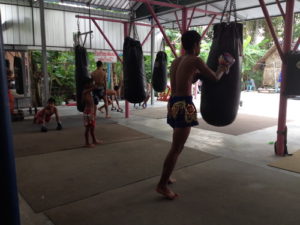 Thailand is a travel destination visited by individuals with different backgrounds due to its natural beauty and the huge number of things that people can see and do there. This is a true tourist paradise with beautiful beaches, attractive cities and great tours. But, many people forget that Thailand is an excellent place to boost their health instantly.
Thailand is home to Muay Thai, a spectacular combat sport and martial art. The training process is not exclusive for the professional fighters. Any fighters can join a training camp and start practicing Muay Thai whenever they are ready. When tourists join these camps, trainers know that they are here to improve their fitness and health and they come up with specially designed programs for them. With these training programs they are able to get back in shape in record time.
Muay Thai training includes series of different attractive exercises that will keep you busy and interested in this sport for a long time. Shadow boxing, punching backs, learning different moves – these are some of the activities that students have on a regular Muay Thai training class. This sport can help you rejuvenate your skin, sculpt the body, boost the metabolism, increase flexibility and agility, get those much wanted abs and improve your health in general. This is also a nice way to release your stress and anger which will ultimately help you enhance self-esteem and self-confidence.
So, have fun and boost your health with Muay Thai this summer!