Muay Thai – you are probably familiar with these two words even if you don't know what they mean. Muay Thai is often regarded as an extremely difficult, external style. In addition, many people believe that Muay Thai has a spiritual side too because it is part of the spiritual and cultural tradition of Thailand.
Muay Thai includes some boxing techniques, fast and hard kicking and rapid strikes with the elbows and knees. Stand up grappling, low kicks are some other typical moves for Muay Thai. People who practice Muay Thai are able to develop an excellent level of physical conditioning. Muay Thai training is a vigorous workout and results in incredible cardiovascular endurance.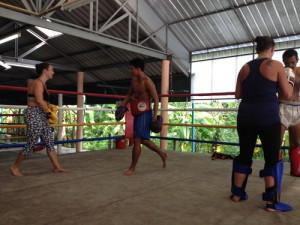 The good news is that people can feel all these effects even if they are not interested in professional fights. In addition, even people who are not in their best shape before the training starts can still be part of the classes.
In order to experience all these benefits, you must join a Muay Thai training camp in Thailand. These facilities provide authentic experience and you can expect to be guided and monitored by true professionals in this field. The professional trainers working there were once professional fighters and they are qualified to work with every category of students. If they are experienced enough, they can easily check your condition and fitness level and recommend suitable Muay Thai training program depending on your personal needs and goals.
People usually join these training camps when they are on a holiday. This is the period of the year when they can fully dedicate to activities they choose. This is also an excellent way to set a foundation for a fitness routine that you can continue following even when you get back home.
Muay Thai will activate all body parts and you will definitely feel more energetic and enthusiastic and more aware of the importance of physical activity. Of course, you will also be able to enjoy your holiday because as we said before Thailand is a great travel destination. If you are staying on some the many beautiful islands in Thailand you will get a chance to visit the local beach on a daily basis.