Being overweight and obesity are slowly becoming one of the worst health problems in the world. Men, women, children and the elderly, almost every category of people are directly affected by this problem. Although the solution for this problem is not very difficult, the fast pace of life today and the constant struggle to find time for physical activity and practicing healthy diet is making the loss weight process very complicated. One way to realize this plan or at least start with its realization is to travel to Thailand.
For some people, this suggestion might sound weird, but the fact is that Thailand has all the things you need in order to lose weight. In addition, the lack of time can be solved by choosing to spend your holiday in this beautiful Asian country.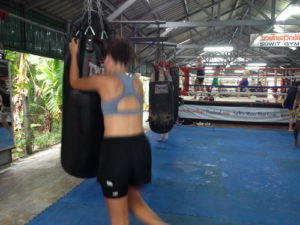 Thailand is a country with very specific cuisine. Thai cuisine is known for the many spices that are used in the meals and the tasty foods that are part of these meals. The good news is that most of these meals don't contain many calories. Another positive side is that you can always find fresh fruit and vegetables in Thailand.
So, the first term to lose weight – eating healthy – can be met in Thailand, but what about the second term – physical activity?
When we talk about physical activity the situation is even better. People can start training one of the best sports for weight loss – Muay Thai.
Of course, Muay Thai is not specially designed for this purpose, but thanks to the specific set of exercises, this activity can drastically speed up and improve your weight loss efforts. Muay Thai training is not focused on the arms or legs; it is trying to activate all muscle groups and all body parts. When we talk about Muay Thai it is all about flexibility and constant movement. This intense workout can burn up to 1500 calories per training class and you can say goodbye to the extra pounds very fast because you will also accelerate the metabolism too.
If you want to get the most from each Muay Thai training class you should join a reliable Muay Thai training camp in Thailand.