There are many different sports that you can pick up and learn. It's a matter of fact that most sports are fun. In fact, it's all relative. There is a sport for everyone. Some people find more active, physical sports better. Others find calmer sports like golf better. In all cases, it's important for you to understand who you are and which sport will be most suitable for your own personal needs.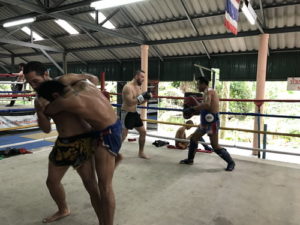 That being said, the sport that we will recommend to you today is Muay Thai. Training the sport of Muay Thai is one of the best things that you could do for yourself. One of the best things about it is that you will be improving your fitness – big time. No matter who you are, after a while, you will start noticing that your body leans out. If you have had problems with excessive weight – then you will experience a dramatic slim-down within the normal boundaries.
Not least of all, you will come to learn true martial arts. This is not something that's easy to learn, of course. In all cases, you will have to work extremely hard in order to learn martial arts and Muay Thai and get good at it. But if you work hard and persistently, then you will come to learn that you begin to understand the depth of Muay Thai. And this is not something that a lot of people have done.
So, your best bet is to start training Muay Thai as soon as possible. The best day for starting your Muay Thai training was yesterday. The second-best day is today. Go ahead and find a Muay Thai training camp. There are bound to be a number of them in the area where you live. After this, you will need to start training. The best thing to do is to go to the training camp frequently.
After a while, you will improve your technique and you will get really good at Muay Thai. And who knows, you may even come to compete in Muay Thai against other practitioners one day. In all events, it will be undoubtedly very fun for you!