Wouldn't it be great to find a way to improve your health while having fun? Is it possible to lose weight, tone muscles and enhance your health without feeling bored and miserable? The answer is a huge YES. There is a discipline that has helped many people achieve their fitness and health goals and this discipline is known as Muay Thai.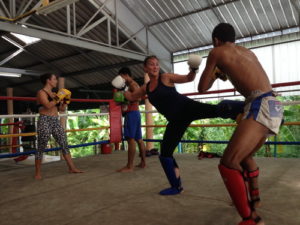 You have probably heard about Muay Thai and if you didn't you probably know it as Thai boxing. This is a sport and a martial art, that looks quite brutal if you are not familiar with it. However, what many people are not aware of is that Muay Thai can be used as a very efficient fitness activity too. By traveling to Thailand and joining a Muay Thai training camp there, you can witness all the great things about this activity.
Of course, you don't have to travel thousands of miles just to join a training camp – Thailand is an excellent holiday destination which means that you can simply add Muay Thai training on your holiday schedule. The training classes won't last more than 2 hours, so you'll have plenty of time to explore this magnificent country.
Muay Thai training is a specific kind of training which includes dozens of different exercises. These exercises are targeting all body parts and what's even better is that they are quite interesting and fun. It doesn't really matter what kind of fitness goal you have, Muay Thai training is here to help you. Any individual can join a class like this to improve his or hers health. Muay Thai training will help you lose and stabilize weight, tone all muscle groups, strengthen the core, release toxins, improve flexibility, enhance mobility, stamina and more. It's also good for the psychological aspect of your health because it eliminates stress, fights off anxiety and enhances self-esteem.
Use your next vacation in a smart way by going to Thailand and joining a Muay Thai training camp there. This is a decision that can change not only your health but your life too.