We all know that it is our mind that makes us unique, but this doesn't mean that we should forget about our body. On the contrary, even the smartest people will experience difficulties if they feel ill and if their health is at risk. One of the main reasons why there are so many people suffering from a wide range of ailments is lack of exercise. They are physically inactive and as a result of that, they develop different health problems. If you want to avoid situations like this, it is the right time to start exercising. One of the simplest and most interesting ways to keep your body in good shape and to remain healthy is to sign up for Muay Thai training classes.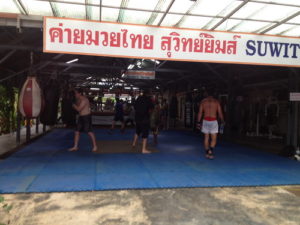 If you do some research you will notice that there are many places where you can do this, but our strong recommendation is to travel to Thailand. This Asian country is not only the home of Muay Thai where this sport and fitness activity has a status of a national sport, but it is also an amazing holiday destination. So, you can mix your vacation with this activity.
It is quite easy and simple to find a good Muay Thai training camp in Thailand because people there love this sport. Most of these camps accept foreign students who want to use Muay Thai to get in shape and improve their health.
The training classes are exciting and last between 60 and 120 minutes per day. Depending on your current physical condition and your ultimate fitness goals, your trainer will provide adequate exercises and suitable training program that will provide fast results.
There is a lot of stretching, kicking, punching and movement involved in every class and you literally won't have time to stop while training which is why this sport is so effective. With Muay Thai training you will improve the work of all organs, your joints, your muscles and you will enhance your mental health too. Finally, this ancient discipline is used for self-defense too, so that's a bonus for every student.