If there is one thing that people of all generations lack these days that's physical activity. Older people, adults, young adults and kids seem to be more interested in sedentary lifestyle and following unhealthy diets. This is very wrong especially when it comes to kids. However, their parents don't give them a good example, so they are following their steps. If you want to break this cycle and do something great for your health, you should think about organized physical training. One good option is to travel to Thailand and signup for Muay Thai classes in a training camp there.
If this sounds like a radical idea to you, we must mention that Thailand is an excellent holiday destinations for the entire family. This country can provide many interesting things that will have positive impact on your health.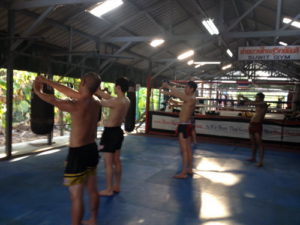 In order to get the most from Muay Thai training you should join a good training camp. Fortunately, these camps are found everywhere in this country, but before you sign up make sure that they are accepting students of all ages and genders.
Muay Thai training brings positive effects to many aspects of our health. To start with, this sport and fitness activity can boost loss weight efforts in any individual. So, if your kid is obese or you believe that you have extra pounds on your belly, don't hesitate to start with Muay Thai training right away. These camps accept students regardless of their physical condition, so even if you have been physically inactive form months you will be accepted as a student. The experienced trainers that work there will assess your condition and set the pace of training according to your condition. Of course, they will take your final fitness goals into consideration too. No matter what kind of training program you choose, Muay Thai will help you lose weight and stabilize weight, sculpt the body and tone the muscles, improve coordination and stability, boost flexibility and agility. Additionally, you can expect better mental and emotional health too because Muay Thai training is a complex system that takes care of every body part.