Are you an experienced traveler that wants to make the most out of his annual trips? Is Muay Thai in your overall lifestyle? Then you should not miss a rejuvenating trip in a Thailand camp where you can relax, have fun and engaging into some interesting form of training. Find all about this great and exciting combat sport and stay fit during your vacation. The enchanting scenery will amaze you while you will be taking a trip to your inner self-awareness.
Push Your Limits 
This camp will help you push your limits, creating a schedule that will enhance your training program while helping you improve your overall health. All the other trainees will be there along with the instructors to help you learn new moves that you will be able to also use when you return back home. If you have already tried Muay Thai, then you know that this sport requires your absolute devotion.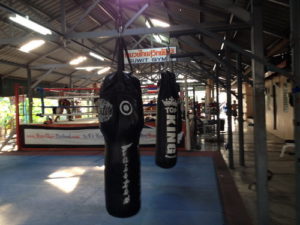 Meet New People
During your stay in the camp, you will have the chance of meeting new people with totally different backgrounds and personalities. Together, you can improve one another and pursue the same goals and dreams. Share the secrets of Muay Thai and take your experience to a whole new level.
Make new friends that stay all over the world, and keep in touch with these Muay Thai enthusiasts. This is a way to visit other places as well and provide some vacation opportunities to your new friends as well.
Improve Your Health
Engaging into a sport is always good for your figure and health. However, being able to travel to the place where Muay Thai was born and staying in a camp with the most experienced trainers is a whole other story. This is the perfect way to enhance your mental health as well.
Along this new lifestyle, you will find out that Muay Thai requires a great physical strength as well as self-discipline and inner balance. Conquer all these, and you will become a master of this combat sport. This is the perfect way to learn more about this amazing sport as well as your own self.
Unique Opportunity
Even if you have travelled to many different places, you will find out that Thailand is actually the best place to enjoy yourself, relax and have some new, exciting experiences. Somewhere between training and relaxing, you will find out more about you as well as this amazing combat sport.
Reveal your new skills and some very interesting aspects of your character that you didn't even know. Muay Thai is one of the oldest sports that men and women all over the world are trying to learn over the years.
Health and Rejuvenation
Take your friends with you and arrange for an exotic trip to Thailand and you will not regret it. The overall atmosphere in the camp will completely compensate you. Staying right beside the beautiful beach will make you forget all of your problems and concerns.