All people are curious about learning new things and exploring new places. It is not in the human nature to sit still and do nothing. Most of the people want to get active and do something exciting. One thing that not only is attractive and exciting, but it is also good for the health, is the ancient Thailand sport of Muay Thai. It offers everything you want from a fighting sport – it has action, suspense, it can be unpredictable and sometimes the smaller fighters can win against bigger ones.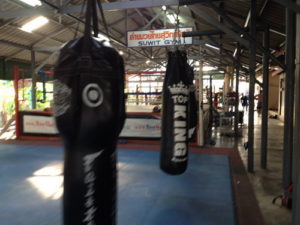 There are many different reasons why people choose to train Muay Thai, but keeping a good fitness is one of the top reasons. Especially women always pay attention to their fitness, so this sport is ideal for all those women who want to keep their line slim and fit. Muay Thai can help in the prevention of many health issues, so that is another thing for what Muay Thai is useful. Best results always come if people are devoted to learning, so if you want to achieve good fitness then you have to visit a Muay Thai training camp in Thailand.
Women can choose between different training camps, regardless whether they are new to Muay Thai or experienced practitioners. Besides improving fitness, women can also spend their holiday in a Muay Thai training camp and make friends with other women that have similar interests like them. In general, Muay Thai is great for boosting health, but Muay Thai is not the only thing that Thailand has to offer. You can go check out many nice landmarks in the country or spend some time in nature. All places have their own charm and are very nice.
Exploring something new and improving fitness should be your top priorities when going to Thailand. Visit a training camp where you will exercise, have fun, and meet friends. Your health and fitness will be much better and your travel experience to Thailand will be exciting and memorable. Make your plans today and enjoy all the nice things of Thailand.