Want to travel the world? Want to learn martial arts? Well then, this is your day! You can have the best of both worlds if you visit the beautiful country of Thailand. There you will be in contact with one of the best martial arts of the world – Muay Thai.
Regardless if you wish to see Muay Thai as a martial art, or as a sport, you will still learn a lot about how to defend yourself. In fact, if the latter is true, then you will be even able to compete with the natives at the sport of Muay Thai. Of course, this isn't something that we recommend you to do unless you're really certain that you have mastered the intermediate level of Muay Thai – as the Muay Thai competitors of this country are people that are practically obsessed with training. They practically never leave the training camp, and they train their butts off.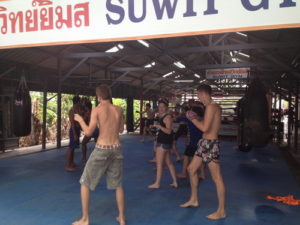 But this may serve as a motivation for you, instead of pulling you back. And in either way, there is no harm in learning martial arts. In fact, and the core level, you will be improving your health besides learning how to fight. And this is always a good thing – and something that all people strive to reach.
So, no matter who you are – if you don't have a doctor's restriction on vigorous training – then you may go to Thailand and try Muay Thai. Trust us. It may seem really difficult at first. Of course, no one likes being hit, and this may be unpleasant for you. But if you power through the initial period of resistance, then you will see that you even begin to "like" being hit, in a way. It makes you feel alive if this makes sense to you.
But in the end, you're not going there to enjoy the training process. One of the greatest legends in the fighting sports, Mohammed Ali, has said that he hated every second of training. But he powered through all that to one day become a legend. So, there you go, we can't really stop this thought. Enjoy training Muay Thai in Thailand.